22 Feb

Sunday Snacking: Hannah Max Cookie Chips (Weekend Promo at 20% Off!)

Sundays are best spent relaxing in the company of the most comforting of comfort foods. We love Hannah Max Cookie Chips because it gives both our favorites in one go. Hannah Max Cookie Chips have the sweet, buttery goodness of cookies fresh from the oven and the delightful, satisfying crunch of our favorite bag of cheaps.

Click below to learn more about the variants of Hannah Max Cookie Chips that we carry, and find out about our special Sunday sale!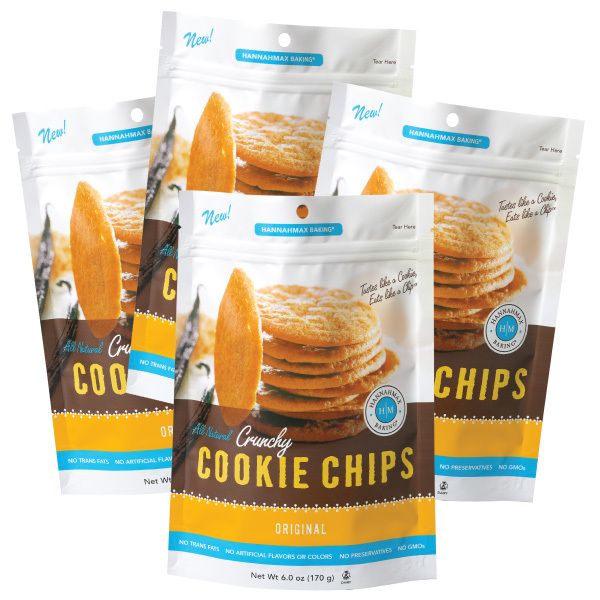 This is the flavor that started it all! The first thing you need to do when you open this bag is just inhale. The Original Cookie Chips is just pure brown sugar goodness. It's sweet but not overwhelmingly so, so you definitely won't get enough of rich and creamy flavor. If you love your cookies but want to try something a little different, definitely grab yourself a bag of Hannah Max Original Cookie Chips. Two, if you can, because that first bag is going to be gone just like that.
It's not surprising that this classic flavor is the most popular. Think of those gooey, semi-sweet chips from those childhood days of yore wrapped in the buttery brown sugar batter of Hannah Max Cookie Chips. Munch on these on those lazy Sunday afternoons when you have a book in your hand and a cute little dog at your feet.
Why yes, it is a chocolate-filled name. Because yes, that's what this is! The Hannah Max Dark Chocolate Chocolate Chip Cookie Chips are made with dark chocolate dough and a generous helping of the finest Belgian chocolates. The result is this creamy, robust flavor that will definitely appeal to the chocoholics out there. Have the milk ready, dunking recommended.
Sundays are made sweeter with Hannah Max Cookie Chips. We want your Sundays to be just as special as well, so, we're giving a 20% discount on Hannah Max Cookie Chips at all branches of Candy Corner nationwide! Now it'll definitely be easier for you to grab a bag or two, more to share with family and friends! Click here to find the Candy Corner branch nearest you, and hurry! This treat is only good while supplies last!
Happy Sunday!